The Florida Aquarium in Tampa aims to entertain, educate and inspire stewardship of the natural environment. The Florida Aquarium was founded in 1995 and has getting visitors up close to the aquatic and land animals and ecosystems. In addition to educating and exposing visitors to the underwater exhibits, the Florida Aquarium works to protect and restore the ocean life. They support with conservation, rescue and research efforts to help restore Florida's sea turtle, coral reef and tiger shark populations. Their conservation and research efforts not only benefit the local oceans, focusing on Tampa Bay, The Gulf of Mexico, The Florida Keys, and Cuba, they also assist world wide. They are home to over 9,000 animals from all over the world and have many exhibits taking you from the oceans near Florida and beyond. You'll even see land animals that live near the oceans such as geckos, lemurs, cockroaches, tortoise, otters, penguins, pythons, alligators, birds, and more! People generally spend two hours at the aquarium.
The Florida Museum is an accredited member of the Association of Zoos and Aquariums.
Please contact Florida Aquarium directly for current hours and pricing. Check out our See & Do Page for other fun things to do in Florida and our Deals Page for offers and coupons for Florida attractions, restaurants, shops and more.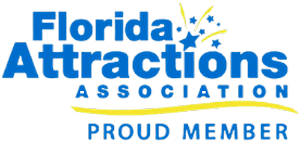 Florida Aquarium Tampa Florida is a proud member of the Florida Attractions Association, representing Florida's finest family attractions.