STEP INTO THE GREATEST ADVENTURES EVER IMAGINED. This is where it goes down. And up. And down again. To those who say "Yay adventure!" we're here for you. Super Heroes. Magical creatures. A school of witchcraft and wizardry. Even dinosaurs (turns out, not so extinct). Take a ride, multiple rides. Some will drench you. Some will just mess up your hair. Some will make your head spin. All of them say, "welcome to a new reality."
Please contact Universal Islands of Adventure directly for current hours and pricing. Check out our See & Do Page for other fun things to do in Florida and our Deals Page for offers and coupons for Florida attractions, restaurants, shops and more.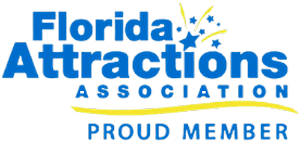 Universal Islands of Adventure Theme Park is a proud member of the Florida Attractions Association, representing Florida's finest family attractions.