Overview
Experience the force and power of the high seas on world-class coasters. Get up-close with amazing sea life. Go behind-the-scenes to see how our trainers care for and interact with these amazing animals, and get up close with some finned, flippered, or feathered friends. Catch live shows and a calendar full of special events, from food festivals to free concerts. Plus, find plenty of rides, shows and attractions designed with your youngest explorers in mind. SeaWorld Orlando takes its guests and their imaginations to the far edges of the sea to share in its stories and adventures.
A discount and/or military offer may be available. Please contact SeaWorld Orlando for current details, hours, promotions, admission tickets, and to verify visitor travel information as things may change.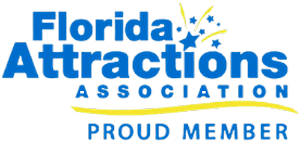 SeaWorld Orlando is a proud member of the Florida Attractions Association, representing Florida's finest family attractions.