Overview
Experience wildlife like nowhere else! See Florida manatees receiving lifesaving care. Get up-close to a rescued Florida panther. Take a stroll down a shaded boardwalk – where you'll find native birds, otters, alligators, bears, skunks, and other Florida wildlife – to the thrilling family water adventure Roaring Springs! Then see rare and exciting wildlife from Asia, Africa, and Australia. And so much more!
Please contact ZooTampa at Lowry Park directly for current hours and pricing. Check out our See & Do Page for other fun things to do in Florida and our Deals Page for offers and coupons for Florida attractions, restaurants, shops and more.
TWO CAN'T MISS ATTRACTIONS FOR ONE LOW PRICE
With awe-inspiring sea creatures, incredible wildlife, thrilling rides and up-close encounters at every turn, there is something for the whole family at ZooTampa at Lowry Park and The Florida Aquarium! Buy your tickets together and save.
Go to TampaZooQuarium.org for offer.
Kenney Communications / Enjoy Florida Magazine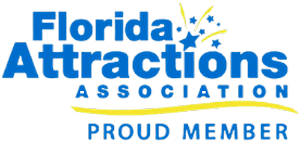 ZooTampa at Lowry Park is a proud member of the Florida Attractions Association, representing Florida's finest family attractions.