Overview
The Zoo Miami is the largest and oldest zoological garden in Florida and the only sub-tropical zoo in the continental United States and opened in 1948. The unique climate in South Florida allows Zoo Miami to keep a wide variety of animals from Asia, Australia, Africa and the Americas representing a broad mix of species that is unlike any other zoo in the country. Zoo Miami houses over 3,000 animals in environments that mimic their natural habitats and their large open-air exhibits allow visitors to enjoy beautiful and endangered wildlife at a safe yet close range.
Conservation is at the core of Zoo Miami's mission. Zoo Miami is accredited by the Association of Zoos & Aquariums which ensures the animals receive the best care while participating in conservation projects. Zoo Miami engages in ecological and conservation efforts. Learn about how you can help save species in the conservation action center. Zoo Miami is proud to be an active leader in many global wildlife and environmental conservation initiatives, and we are currently involved in about 30 programs annually across five continents.
Get up close and personal with animal encounters and engage parrots, giraffes, Galapagos tortoise or a camel. Learn all about the animals from experienced zoo keepers as they teach guests about the wildlife. See the four miles of lush pathways in the zoo in a whole new way on a safari cycle. Or enjoy riding the carousel, boat ride or peddle boat. View original pieces of art and colorfully painted murals throughout the zoo which tell interesting stories about the animals in the zoo. Zoo Miami is located 20 minutes from Miami International Airport, 45 minutes from South Beach and 50 minutes from Ft. Lauderdale easily accessible from Florida's Turnpike.
Please contact Zoo Miami directly for current hours and pricing. Check out our See & Do Page for other fun things to do in Florida and our Deals Page for offers and coupons for Florida attractions, restaurants, shops and more.
Not valid with any other offers. Good for up to 6 people.
Kenney Communications / Enjoy Florida Magazine
Expires: 12/31/23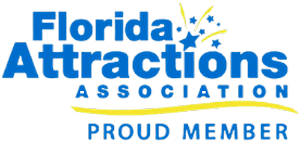 Zoo Miami is a proud member of the Florida Attractions Association, representing Florida's finest family attractions.