At America's longest operating oceanarium in Miami, you'll spend an unforgettable day on a tropical island getting to know the ocean's most amazing wonders. See incredible shows starring Lolita the Killer Whale, Flipper, Salty the Sea Lion, and all their friends. Check out crocs, manatees, sea turtles, exotic birds, zillions of tropical fish and more. You can even get in the water with a dolphin, pet a stingray, meet penguins, or go below the surface and explore the reef with their unforgettable animal encounters! Enjoy Salty's Pirate Playground – a splashtacular place to play for kids 2-12. One thing's for sure – it will be a day you'll never forget!
Please contact Miami Seaquarium directly for current hours and pricing. Check out our See & Do Page for other fun things to do in Florida and our Deals Page for offers and coupons for Florida attractions, restaurants, shops and more.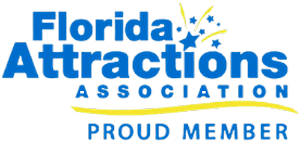 Miami Seaquarium is a proud member of the Florida Attractions Association, representing Florida's finest family attractions.