Explore a part of pristine marshland that hasn't changed from when early pioneers settled in the 1800s. Located in Kenansville, Florida, 45 minutes outside of the popular theme-parks in Orlando, Climb aboard a U.S. Coast Guard certified airboat and catch a glimpse of eagles, turkeys, wild boar, roseate spoonbills, alligators in Florida and other native wildlife. After your airboat tour, make sure to stroll through our Gator Park where you can see lemurs, sloths, zebras, and other animals native to South America, Africa, and Australia. The Chomp House Grill turns out some of the best barbecue around, and their Swamp Slushy is reason enough to visit them in the heartland of the Florida Everglades.
NEW in 2020! Buckle up for your wildest car ride yet at Wild Florida's All New Drive-Thru Safari Park! Travel down gravel paths and discover more than 100 native and exotic animals roaming freely. During your journey, you'll have the opportunity to observe a variety of animals often only found on different continents. Enjoy identifying species from as far away as the African savanna to others from the deciduous forests of North America, all from the comfort of your own car or truck. Expanding across 85 acres of untouched scenic landscapes, our safari park presents a unique opportunity to bring you up close and personal with wild animals such as giraffes, zebra, eland antelope, wildebeest, scimitar oryx, bison, mouflon sheep, and more! As you travel down our two-mile "unbeaten path," your family can enjoy an exploration just feet away from animals normally only seen on TV. But the fun you'll have isn't confined to your car. Inside our drive-through safari park, you can meet, greet and feed giraffes on our elevated giraffe feeding platform. (Talk about the perfect Facebook profile picture!)
Please contact Wild Florida directly for current hours and pricing. Check out our See & Do Page for other fun things to do in Florida and our Deals Page for offers and coupons for Florida attractions, restaurants, shops and more.
$2 OFF DRIVE-THRU SAFARI PARK TICKETS
Closed on Sundays. Not valid with other offers or discounts. Redeem this deal when you book online with the code EFL23.
Kenney Communications / Enjoy Florida Magazine
Expires: 4/30/24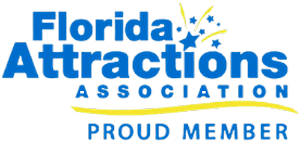 Wild Florida is a proud member of the Florida Attractions Association, representing Florida's finest family attractions.