Butterfly World near Fort Lauderdale, Florida is a tropical adventure in the World's Largest butterfly house and bird park. Butterfly World was the first butterfly house in the United States, opening in March 1988. Butterfly world encompasses 3 acres of butterfly aviaries, botanical gardens and a working butterfly farm and research center.
Wander through six outdoor, screened in aviaries with over 20,000 live butterflies and free flying tropical birds. See domestic, rare, and exotic birds in the Jewels of the Sky Aviary and Tropical Bird Aviary. Feed birds right out of your hand in the Lorikeet Encounter. Immerse yourself in a blooming garden paradise with one of the largest collections of flowering plants, vines, and trees in the world. Learn about butterfly conservation, research, and the efforts to save endangered butterflies by Butterfly World. Take gorgeous and memorable photos among the waterfalls, flowering plants, and roses. Sip coffee and relax among nature's beauty at an outdoor cafe. Watch in wonder at the live bug zoo.
Butterfly World is located within the South side of Tradewinds Park but is a separate facility. Butterfly World is open 7 days a week, weather permitting as the exhibits are mostly outdoor attractions. Capture unique photos on days below 60 degrees Fahrenheit as most butterflies will not fly and will stay still, resting on leaves or plants. On sunny and warm days, the butterflies and birds will be active and flying for beautiful action photos. Butterfly World is a hidden gem attraction wonderful for guests of all ages.
Please contact Butterfly World directly for current hours and pricing. Check out our See & Do Page for other fun things to do in Florida and our Deals Page for offers and coupons for Florida attractions, restaurants, shops and more.
$5 OFF ADULT ADMISSION $3 OFF CHILD (3-11 YEARS OF AGE)
Valid for up to 6 people. Not valid with any other offers. Tradewinds Park Weekend / Holiday Gate Fee may be in effect. Coupon must be presented at entrance.
Kenney Communications / Enjoy Florida Magazine
Expires: NONE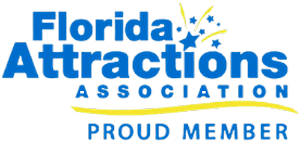 Butterfly World, Coconut Creek, Florida is a proud member of the Florida Attractions Association, representing Florida's finest family attractions.