Disney's Typhoon Lagoon Water Park Orlando, Florida is a 61-acre themed water recreation attraction — inspired by the imagined legend of a typhoon, earthquake and ensuing tidal wave combining to create an inland sea with breaker waves (Typhoon Lagoon) and a towering watershed mountain (Mt. Mayday) atop which is a stranded shrimp boat (the Miss Tilly). The main attraction – the Typhoon Lagoon is one of the world's largest surfing lagoons and North America's largest wave pool. Typhoon Lagoon Surf Pool is approximately 109,000 square feet, containing nearly three million gallons of water. Live your best  adventure on thrill water park rides with big drops, small drops, and windig and twisting water slides. A fun thing to do for families and children includes The Ketchakiddee Creek. This is a separate water park for children including scaled down versions of many of the water play activities. Three whitewater rafting adventures, a trio of curving body slides, and three speed slides are also available at Typhoon Lagoon.
Merchandise shops are available for sundries and souvenirs. Enjoy refreshing frozen and specialty cocktails, beers, wines, and beverages. Enjoy a sweet treat and cool off with ice cream sundaes, root beer floats and other desserts. Dig into the Sand Pail – 2 kinds of soft serve topped with waffle cone and cookie pieces, hot fudge and more! Stop for a snack, beverage, or have a meal water side as you enjoy your day at Disney's Typhoon Lagoon Water Park Orlando. Enhance your experience and relax in style with your own private shaded areas including a cooler, reserved lounge chairs, and towels. A Beachcomber Shack can be reserved and also includes refillable drink mugs and ice water available all day. Complimentary standard parking is available for all Guests visiting Disney's Blizzard Beach Water Park Orlando. Appropriate, family friendly swim attire is required.
Please contact Disney's Typhoon Lagoon Water Park directly for current hours and pricing. Check out our See & Do Page for other fun things to do in Florida and our Deals Page for offers and coupons for Florida attractions, restaurants, shops and more.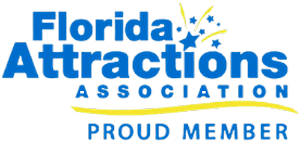 Disney's Typhoon Lagoon Water Park Orlando is a proud member of the Florida Attractions Association, representing Florida's finest family attractions.