Overview
Established in 1946 by the P.F. McKenney family, Theater of the Sea is located in the Florida Keys, half-way between Miami and Key West and is one of the oldest marine mammal facilities in the world. The McKenney family still owns and operates the park today.
Originally a rock quarry excavated for Henry Flagler's railroad in the early 1900's, the lagoons and lush, tropical gardens at the facility are home to dolphins, sea lions, sea turtles, tropical and game fish, sharks, stingrays, crocodiles, alligators, and birds. Twelve million gallons of ocean water are pumped in daily to supply water to the three-acre natural salt-water lagoons.
The health and well-being of the animals takes precedence over all other interests and their care is supported by patronage alone. Many of our animals were rescued by Theater of the Sea and other organizations like the Turtle Hospital, Texas Marine Mammal Stranding Network, and the Marine Mammal Care Center.
Theater of the Sea is open daily from 9:30 a.m. E.S.T. for educational and entertaining shows and programs. After enjoying the shows and programs, guests can browse in our unique gift shop, dine at Papa's grill, and visit our private lagoon-side beach to snorkel, sunbathe, or just relax.
General admission to the park includes dolphin, sea lion, fish and reptile, and parrot shows, access to the lagoon side beach, and a 5-minute bottomless boat ride around the dolphin lagoon. One of the shows is always taking place; guests join the one that is in progress when they arrive and should plan to spend two to three hours in the park.
The facility is available for private parties and catered functions, both during and after normal hours of operation. We have the experience and atmosphere to make any occasion unforgettable…birthdays, anniversaries, holidays, wedding receptions, corporate dinners.
Our professional affiliations include Alliance of Marine Mammal Parks and Aquariums, International Marine Animal Trainers Association, Florida Attractions Association, and SeafoodWatch.
Please contact Theater of The Sea directly for current hours and pricing. Check out our See & Do Page for other fun things to do in Florida and our Deals Page for offers and coupons for Florida attractions, restaurants, shops and more.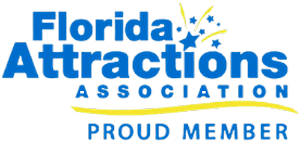 Theater of the Sea is a proud member of the Florida Attractions Association, representing Florida's finest family attractions.