Family-friendly and full of excitement, Pirates Dinner Adventure is a must-see dinner show for children and adults alike. Set sail for the high seas aboard a pirate ship full of swashbuckling scoundrels as you cheer them on. Witness breathtaking feats of aerial agility and spectacular musical talent as you enjoy a four course dinner. The action is set aboard an 18th century Spanish Galleon adrift in a 300,000 gallon lagoon. Watch the enchanting cast of entertainers, acrobats, and cutthroats as they chart a course through danger and romance. Sword fights, songs, sea monsters, and a captain's feast — no other Orlando dinner show packs so much entertainment into a single evening. Look no further for fun things to do in Orlando. Pirates Dinner Adventure has it all and more!
You're invited to attend the annual Governor's Gala. This year there is a magical mermaid who was discovered with a legendary jewel known as the Serpent's Eye, which is said to hold the power to summon a mighty Leviathan from the deep. None suspect renegade pirates, led by the infamous Captain Sebastian the Black are fast approaching to claim the Serpent's Eye as their own. Beware as they capture the Princess, the Mermaid and YOU! Enjoy a "final meal", opportunities to participate in the story and even become part of the crew. But remember, the dreaded Leviathan lay in wait for any who falsely claim the Serpent's Eye!
Dance and party with the Pirates after the last show of the evening. The main theater is comprised of tiered seating for up to 700 guests, and the venue is available for private group events and functions. Renowned for more than a decade in the dinner theater industry for exemplary service, facilities, and first-class entertainment, the Orlando venue is ideally situated one block from world-famous International Drive and within a 15-minute drive to area attractions, Orlando International Airport, the Orange County Convention Center, and downtown Orlando. The Dinner Theater is fully enclosed and air-conditioned. The dress code is casual. Admission includes meal and live performance. Taxes, parking, gratuities and alcoholic beverages are excluded unless otherwise stated. Show times, prices & menu items are subject to change without notice.
Please contact Pirate's Dinner Adventure directly for current hours and pricing. Check out our See & Do Page for other fun things to do in Florida and our Deals Page for offers and coupons for Florida attractions, restaurants, shops and more.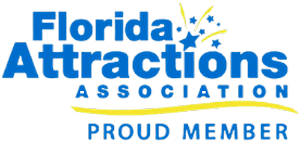 Pirates Dinner Adventure is a proud member of the Florida Attractions Association, representing Florida's finest family attractions.