The Morikami Museum and Japanese Gardens in the Palm Beaches celebrates and educates the centuries-old connection between Japan and South Florida. In 1903, Jo Sakai, from Miyazu, Japan settled in present-day northern Boca Raton. He signed an agreement with the Florida East Coast Railway to locate a proposed colony of Japanese farmers in the Boca Raton Area. The farmlands were confiscated by the U.S. government for a military installation in May of 1942. While the farms are no longer operating, the Morikami Museum and Japanese Gardens aims to preserve the memory of the Yamoto Colony. The museum hosts many artifacts and exhibits from different areas of Japan's rich culture. On select days, you may participate in a traditional Tea Ceremony. The gardens are called Roji-en: the Garden of the Drops of Dew which are inspired by the significant gardens in Japan and feature a variety of plants including an extensive bonsai collection.
Please contact Morikami Museum directly for current hours and pricing. Check out our See & Do Page for other fun things to do in Florida and our Deals Page for offers and coupons for Florida attractions, restaurants, shops and more.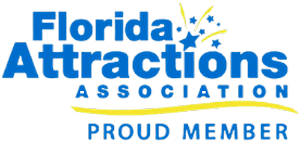 Morikami Museum and Japanese Gardens is a proud member of the Florida Attractions Association, representing Florida's finest family attractions.