There is something to do for everyone at Fun Spot America. Whether you are a thrill seeker who wants "Bigger! Faster!" or someone who prefers the lights and sounds of the arcade, we have exactly what you are looking for. We have many great rides and games, for kids and adults alike, to experience. Unique experiences you can only have at Fun Spot America, Kissimmee – The MineBlower wooden rollercoaster is the only wooden coaster in Florida to go upside down and you can ride the WORLD's tallest skycoaster. Other rides and attractions include classic Bumper Kars and Old Town Ferris Wheel, US patented Multi Level go-cart tracks or the thrills of other rides, we are here to celebrate people, create fun and make memories. Find your fun at Fun Spot Kissimmee.
Please contact Fun Spot America directly for current hours and pricing. Check out our See & Do Page for other fun things to do in Florida and our Deals Page for offers and coupons for Florida attractions, restaurants, shops and more.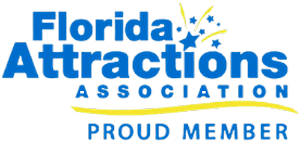 Fun Spot America, Kissimmee is a proud member of the Florida Attractions Association, representing Florida's finest family attractions.