Located at the southernmost tip of the Florida peninsula within the Everglades National Park, Flamingo Adventures provides beautiful campgrounds, an abundance of recreational activities and phenomenal views of the largest subtropical wilderness in the nation. Visitors are delighted by the exotic wildlife and bird watching. Immerse yourself in the nature of the Florida Everglades at Everglades National Park. Rent a kayak or canoe to paddle your way through two scenic routes through the everglades through Florida Bay or up the Flamingo canal. Get up close and personal with the many birds, animals and wildlife that call the everglades home. Rent a pontoon boat and float through the everglades. Bike along the nature trails and explore the peace and beauty of the subtropical plants and animals that call Florida home. Take a Back Country or Florida Bay guided boat tour as your naturalist highlights unique plant and animal life found here and outlines the rich history of Flamingo at Everglades National Park in Whitewater Bay or Florida Bay.
Staying on a houseboat in the everglades is one of the most unique experiences you can have in Florida. Float your cares away as you're rocked to sleep by the lull of the water. Houseboats feature two bedrooms, bathroom with shower, linens, and amenities. Take the houseboat out on an excursion deep into the everglades as you explore and enjoy being on Whitewater Bay. Fish right off the back of the houseboat, clean the fish on the provided fish cutting table and grill your meal right on the deck. Watch in wonder as you're able to see millions of stars shining brilliantly in the night sky without the ambient city lights. Sleep under the stars from the campground in an eco-tent, RV campsite, or rustic campsite rental.
Eco-tents provide the best glamping experience complete with beds, linens, furniture, electricity, fans, restroom access and are elevated keeping you out of the mud, water, and away from some critters. Rent a campsite that can accommodate RVs or tents at both Long Pine Key Campground and Flamingo Campground. Both campground amenities include bath houses, dump stations, fresh water fill ups, picnic tables, and grills. The Flamingo Campground also offers an amphitheater for winter interpretive programs offered by the National Park Service.
The Flamingo/Long Pine Key areas are accessed through the Ernest F. Coe Visitor Center entrance into Everglades National Park. The entrance is located near Homestead, approximately 1 hour drive time Southwest of downtown Miami.
Please contact Flamingo Adventures at Everglades National Park directly for current hours and pricing. Check out our See & Do Page for other fun things to do in Florida and our Deals Page for offers and coupons for Florida attractions, restaurants, shops and more.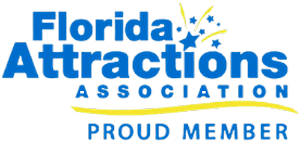 Flamingo Adventures is a proud member of the Florida Attractions Association, representing Florida's finest family attractions.