Overview
Near the entrance of the Everglades National Park in Florida City,  is South Florida's oldest Alligator Farm, the Everglades Alligator Farm. Enjoy an airboat ride or simply enjoy admission to the park. General admission includes admission to the farm where you'll see the many wildlife on property. Additionally, they offer snake shows, alligator shows, alligator feeding shows, private interactions with the farm's animals and more! You can even experience the thrill of holding a snake during the snake show!
Please contact Everglades Alligator Farm directly for current hours and pricing. Check out our See & Do Page for other fun things to do in Florida and our Deals Page for offers and coupons for Florida attractions, restaurants, shops and more.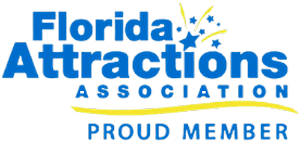 Everglades Alligator Farm is a proud member of the Florida Attractions Association, representing Florida's finest family attractions.