Clearwater Marine Aquarium® believes in preserving our environment while inspiring the human spirit through leadership in the rescue, rehabilitation and release of marine life; environmental education; research; and conservation. Clearwater Marine Aquarium®  located outside of Tampa, Florida is a 501(c)(3) organization. The staff and volunteers work each day to rescue marine life and provide the most advanced and effective care to maximize the opportunity to return sick or injured animals to their homes. The animals that come to the Clearwater Marine Aquarium® arrive because they are suffering from an illness or severe injury. Sometimes if the injuries are so severe or the animal is too young, it would not be in the animal's best interest to release it back into the wild. If the animal is determined to be unable to be released back into the wild, they become a permanent resident of the aquarium.
The Clearwater Marine Aquarium® educates and inspires millions of people around the world through films like Dolphin Tale and Dolphin Tale 2. View rescued dolphins Hope, Nick, Hemingway, Apollo and Izzy, from below the water through nine glass panels in the 1.5 million-gallon habitat. View other resident rescue animals including pelicans, turtles, sharks, otters, stingrays, rough-toothed and bottlenose dolphins, and other aquatic animals. Observe the working animal hospital and learn about the rehabilitation efforts at Clearwater Marine Aquarium® to help marine life recover from injury or illness. Take an hour long eco-boat tour into the Clearwater Bay where you may see birds, dolphins, and other marine animals. Meet rescued animals up close with a personalized behind the scenes tour or animal encounter.
Please contact Clearwater Marine Aquarium directly for current hours and pricing. Check out our See & Do Page for other fun things to do in Florida and our Deals Page for offers and coupons for Florida attractions, restaurants, shops and more.
Present this coupon at the ticket window or use promo code online to redeem for $2 off General Admission. Limit one coupon per party, maximum party size of 4 people. Cannot be combined with other offers or discounts. Final interpretation is at the discretion of Clearwater Marine Aquarium. Excludes evening admission, special admissions and events. Please check cmaquarium.org for current hours and events. Promo Code: XORLH
Kenney Communications / Enjoy Florida Magazine
Expires: 12/31/24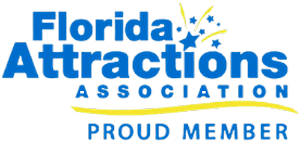 Clearwater Marine Aquarium is a proud member of the Florida Attractions Association, representing Florida's finest family attractions.